---
By The Numbers: Super Saturday
May 30, 2014
---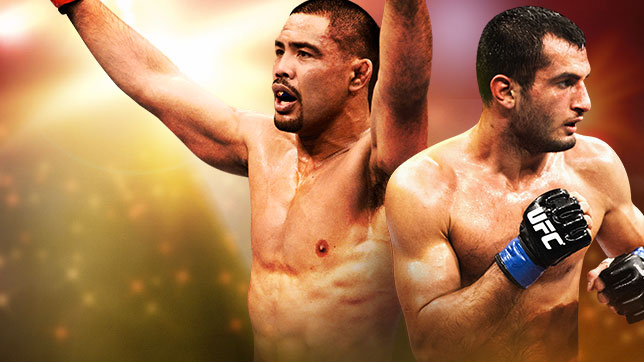 This Saturday, the Octagon will see new and live action in both the Eastern and Western hemispheres as UFC Fight Night: Munoz vs. Mousasi will take place on UFC FIGHT PASS during the day and The Ultimate Fighter Brazil 3 Finale will air on FOX Sports 1 at night. The first event in Germany will feature middleweight main and co-main event matchups as Mark Munoz takes on Gegard Mousasi and Francis Carmont meets CB Dollaway.

In Brazil, Stipe Miocic will collide with Fabio Maldonado, who is making his heavyweight debut, and two new TUF champions will be crowned as well. At middleweight, Team Sonnen fighters will collide as Warlley Alves battles Marcio Alexandre, and at heavyweight, Team Wanderlei's Antonio Carlos Junior. will scrap with Team Sonnen's Vitor Miranda.

6400
Approximate number of miles between UFC Fight Night: Munoz vs. Mousasi in Berlin, Germany and The Ultimate Fighter Brazil 3 Finale in Sao Paulo, Brazil

1298
Days since the Octagon took residence in Germany at UFC 122 and tomorrow night's UFC Fight Night: Munoz vs. Mousasi

356
Significant strikes landed by Mark Munoz inside the Octagon across 12 appearances

44.9
Percentage of those sig. strikes landed while on the ground by Munoz, 3rd largest proportion among active UFC fighters (min. 350 att.) behind Dong Hyun-Kim at 48& and Chael Sonnen at 52%

52
Significant strikes on the ground landed by "The Filipino Wrecking Machine" against Tim Boetsch at UFC 162, 3rd most ever in a UFC middleweight fight behind Ed Herman's 53 at UFC 97 and Sonnen's 72 at UFC 117<br>
51
Percentage of significant strike accuracy for Munoz in the UFC, 4th highest accuracy among active 185ers (min. 5 fights and 350 sig. att.)

9.34
Takedown attempts per 15 minutes of fighting for Munoz, highest among active middleweights

66
Takedown attempts inside the Octagon for Munoz, 4th most in the division's history

2
Number of times Munoz achieved All-American status wrestling as a Division I wrestler for Oklahoma State University

2001
Year that "The Filipino Wrecking Machine" won the NCAA Division I National Championship in wrestling

138
First UFC event with a 5 round non-title fight as Munoz took on Chris "The Crippler" Leben and Munoz won by second round TKO

4
Number of main events that Munoz will have competed in for the UFC, including this bout with Mousasi

34
Career wins for Gegard Mousasi across a 40 fight career

85.3
Percentage for Mousasi's finishing rate of his opponents

26
Finishes in the first round for Mousasi

60
Seconds for Mousasi to score a knockout win and the Strikeforce light heavyweight title in his Strikeforce debut against then champion Renato "Babalu" Sobral, 2nd fastest finish in Strikeforce title history to Ronda Rousey's 54 seconds

8:28
Average fight time for Mousasi across his last 16 fights

0
Times Mousasi has been stopped via strikes in his career

1.2
Significant strikes absorbed per minute by Mousasi, UFC average is 2.61

60
Percentage of Mousasi's last 25 takedown attempts that were successful

46
Percentage of Mousasi's last 13 submission attempts that were successful

100
Percentage of Mousasi's UFC bouts that have been main events

6
Consecutive wins for Francis Carmont to kick off his UFC career, 3rd longest streak in UFC middleweight history

10
Career wins by submission for "Limitless," including back-to-back rear naked choke victories inside the Octagon over Magnus Cedenblad and Karlos Vemola

3.2
Percentage of Carmont's fight time in the UFC where he has been controlled on the ground

1.3
Significant strikes absorbed per minute by "Limitless," lowest rate of any active middleweight and 3rd fewest in UFC middleweight history (min. 5 fights)

80
Percentage of Carmont's takedown defense inside the Octagon, 3rd highest in UFC middleweight history (min. 5 fights and 20 opponent att.)

26
Successful takedown attempts for CB Dollaway inside the Octagon, 5th most in UFC 185-pound history

65
Percentage of those takedowns for "The Doberman" initiated from within the clinch

53.1
Takedown accuracy percentage for Dollaway, 2nd highest among active middleweights to the current champ Chris Weidman at 68.2%

85.7
Takedown defense percentage for Dollaway across his 13 UFC bouts, UFC average is 59%

2006
Year that "The Doberman" achieved All-American status as a Division I wrestler for Arizona State University

7
The Ultimate Fighter season Dollaway was a finalist

39
Seconds it took for Dollaway to deliver a knockout punch to TUF Brazil winner Cezar "Mutante" Ferreira

+155
Betting odds against Dollaway to win the bout against Ferreira

5.18
Significant strikes landed per minute by Stipe Miocic inside the Octagon, 2nd highest rate in UFC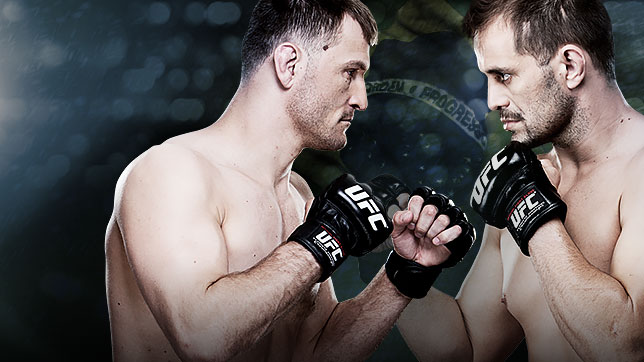 heavyweight history (min 5. fights) behind the current champ Cain Velasquez at 6.21

106
Significant strikes landed by Miocic against Roy Nelson at UFC 161 to Nelson's only 23 in return, 3rd largest differential in sig. strikes in UFC heavyweight history

+1.99
Miocic's strike differential per minute in the UFC, 3rd best among active heavyweights

42.9
Takedown accuracy percentage for Miocic inside the Octagon, 3rd highest among active heavyweights (min. 5 fights and 20 att.)

8
Career wins via strikes for Miocic including 2 inside the Octagon

8
Octagon appearances for Brazilian fan favorite Fabio Maldonado with his 7 previous bouts competed at light heavyweight and this bout against Miocic marking Maldonado's heavyweight debut

6.2
Significant strikes per minute landed by Maldonado, highest rate in UFC light heavyweight history and 2nd highest all-time behind Velasquez's 6.21

132
Significant strikes landed by Maldonado against Gian Villante at UFC Fight Night: Shogun vs. Henderson 2, 2nd most ever landed in a 3 round light heavyweight bout

60.9
Significant strikes accuracy percentage for Maldonado, 2nd highest in UFC history behind former UFC middleweight champ Anderson Silva's 67.2% (min. 5 fights and 350 sig. att.)

594
Significant strikes landed by Maldonado inside the Octagon

35.4
Percentage of those sig. strikes that targeted his opponent's body, largest proportion UFC light heavyweight history

21
Professional boxing wins by knockout for Maldonado

2005
Year that Vitor Miranda won the K-1 Brazil Grand Prix in Sao Paulo

2007
Year that Vitor Miranda won the K-1 Fighting Network Turkey tournament

9
Finishes for Miranda among his 10 career wins including 7 KO/TKOs

3
KO/TKO wins for Miranda in the TUF house to get him to the heavyweight finals

3
First round stoppages for Antonio Carlos Jr. in the TUF house to get him to the finals, 2 KO/TKOs and 1 submission (rear naked choke)

100
Percentage of "Cara de Sapato's" (shoe face) career wins by first round submission

0
Times Carlos Jr. has lost a professional MMA bout

2010
Year that "Cara de Sapato" earned his BJJ black belt under Helder Medeiros

1
Win each by submission, knockout, and decision for Warlley Alves on TUF to get him to the middleweight finals

7
Consecutive wins to start Alves' pro MMA career including 4 wins by finish

3
Finishes for Alves in less than 2 minutes fight time

5
Years old when Marcio "Lyoto" Alexandre began training karate

10
Wins by knockout in Alexandre's pro MMA career

11
First round finishes for "Lyoto" in his pro MMA career

7
Of those stoppages wins were in under 2 minutes fight time

0
Losses combined for Alves and Alexandre Jr.