---
The Download: Jason High gets cut
June 10, 2014
---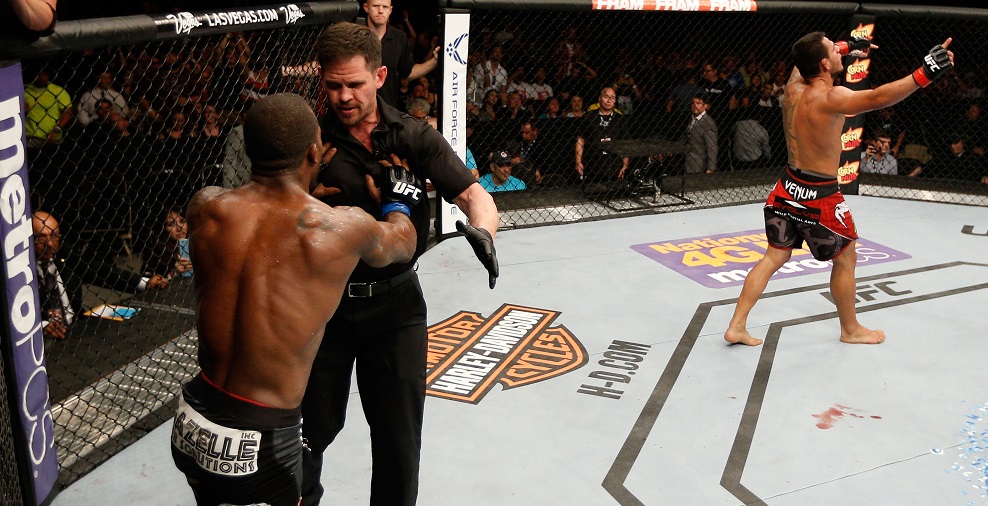 UFC president Dana White didn't see it live, but he was just as upset when he learned that Jason High pushed a referee after his TKO loss to Rafael dos Anjos on Saturday night at Fight Night Albuquerque.

"What I did find out is that I guess that Jason High kid got up and pushed a referee - he's cut," White said in disgust. "I'm going to cut him. I look at that the way (Paul) Daley put his hands on his opponent after a fight was over. You don't ever, ever f****** touch a referee, ever. You're done here. He's been apologizing on Twitter, but he's done."

White was also disappointed in the Diego Sanchez-Ross Pearson decision, going so far to say that the judge that gave Sanchez the fight at 30-27 (Jeff Collins) should never judge another professional fight. White said he is going to give Pearson the $30,000 he would have received had he won the decision.

"Diego lost that fight. The judge who judged that fight should never be judging fights again. He never should be judging fights of this caliber, he needs to go back down into the amateurs and really learn how to judge a fight," White said. "First of all, you gave every round to Diego, who got dropped in the second round. It was a knockdown, how does Diego win that round? It's not possible. I don't know how you can vote against him, but it goes to show that you're never safe. That's as bad as it gets."

Saturday night was a bit of a blur for White. As UFC Fight Night Albuquerque fighters were battling inside the Octagon, White was taking on a serious opponent of his own: allergies.

"I was f***** up Saturday night because I had real bad allergies, so I took some Benadryl and it knocked me out," he said Tuesday afternoon on his first day back in the office after a short weekend family getaway to his hometown in Maine.


But as White drifted off into a medicine-induced sleep, something jolted him back to consciousness on the TV.

"My eyes swelled up like I just got the s**t kicked out of me," White explained. "It snowed in May in Maine, so they're just going through Spring now. There was so much Pollen on my car, my eyes swelled up. So I drove into the pharmacy and the lady is like, 'You need to take some Benadryl.' I had never taken Benadryl in my life - I always thought it was some s**t you rubbed on your skin.

"So I asked her, 'What happens if I drink with these?' She said, 'It's going to make you more tired.' So I took two. I drank 3/4 of a beer and I barely made it to my bedroom walking. I laid down for a few minutes and I'm dead - hallucinating, dreaming crazy s**t.

"But you want to know something crazy," he continued. "I was in my bedroom sleeping, but the TV was on with the fights on in my room. You know what woke me up? The crowd during the Dodson fight woke me up. It was so f****** loud on my TV. That crowd was insane."

On UFC 174...

White made it a point to highlight Gegard Mousasi before his main event bout with Mark Munoz at Fight Night Berlin, and he said Tuesday that Ali Bagautinov is the guy competing at UFC 174 that has his full attention.

"Another Russian - Ali is another tough guy. He's ranked No. 4 in the world and is going against Demetrious Johnson, who I agree with Joe Rogan when he says that Johnson is probably the fastest, most technical guy in MMA," White said. "It's true. He looks better every time he fights. It should be a fun fight.

> Check out UFC 174 Countdown: Johnson vs. Bagautinov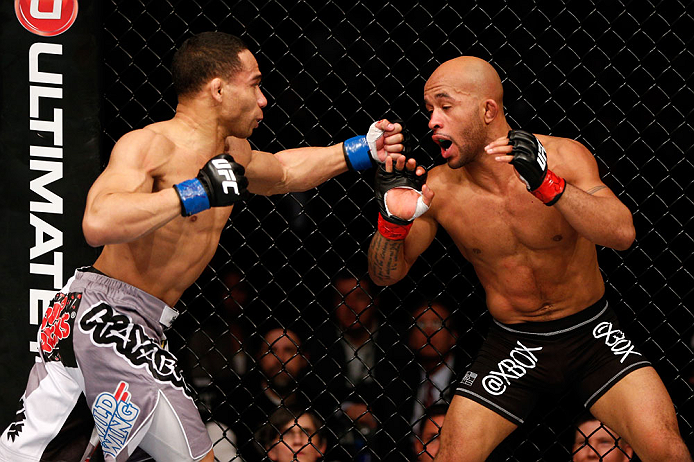 "Demetrious needs to do what Henderson did to Khabilov, and basically shut him down, especially coming off that amazing knockout of Joseph Benavidez, especially when nobody thought Mighty Mouse had any power," White continued. "Demetrious has been talking about a potential super fight, he's a couple fights away from cleaning out this division. They have him ranked No. 4 in pound for pound, and a dominant win Saturday gets him a step closer to where he wants to be. He's the guy I look at who's building this division."

Also making noise in the flyweight division is Dodson, fresh off his impressive victory over John Moraga last Saturday. White said a potential rematch between Dodson and Johnson could tear the house down.

"I think that John Dodson is one of the most talented guys in the sport. He's fun to watch, he's exciting, and it was absolutely, positively an experience factor in the first fight against Johnson, and Demetrious beating him again would be a big deal," White said.

On Tyron Woodley...

Woodley spoke with Sherdog recently and voiced his displeasure with the current system in the UFC when it comes to fighters getting title shots.

"I think we need to have some consistency and a rubric to make it more of a sport," Woodley told Sherdog. "I feel like [there are] guys that are legitimately putting themselves in that position to fight for the title by working so hard, and we should be given that shot, not just look at the fans saying, 'That was a good fight. I want to see it again.' OK, well, if you saw the NBA finals and it was a great series between the Heat and OKC, you don't get to run it back just because it was a great last game of the series. The winner's the winner."

> Check out UFC 174 Countdown: MacDonald vs. Woodley

Woodley's issue is directly related to Robbie Lawler potentially getting another title shot if he beats Matt Brown on July 26 in San Jose, before Woodley even gets his first crack at the champ.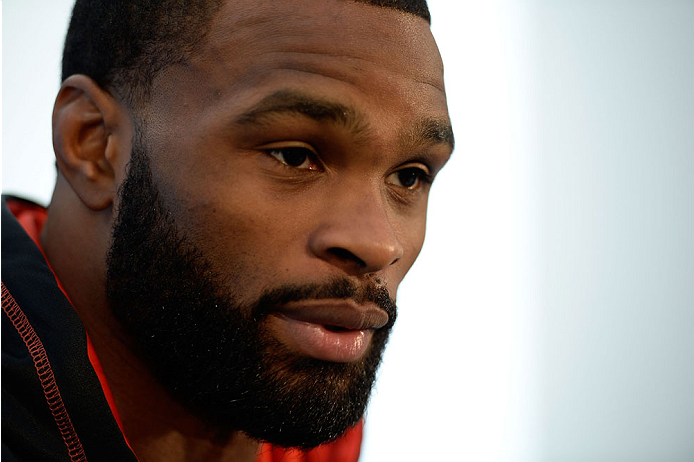 White has a message for "The Chosen One."

"It's not that anybody can get a title shot or rematch - the Lawler-Johny Hendricks fight was so close," White said. "Everybody thinks Woodley gasses out after the first round. This is Tyron's shot right here. Nobody is beating down the doors after Tyron's last two performances for him to get a title shot. He's explosive and exciting, but there are question marks there. This kid MacDonald has the exact style to tire him out and make him gas out. We'll see.

"Woodley - half the time he has a killer instinct and goes out there and destroys people, and half the time he doesn't. He's a 50/50 guy. MacDonald is the same thing," White continued. "It's a big fight for both these guys. Woodley has to go out and make people want to see him in a title fight. This is his big opportunity. So let's see it. Go out and deliver this weekend and make people talk about you and see you in a title fight."

On Benson Henderson...

White has been vocal in the past about Henderson and his inability to finish fights, calling him a grinder. But on Saturday night White thinks Henderson fought the fight he's been waiting for to see out of "Smooth."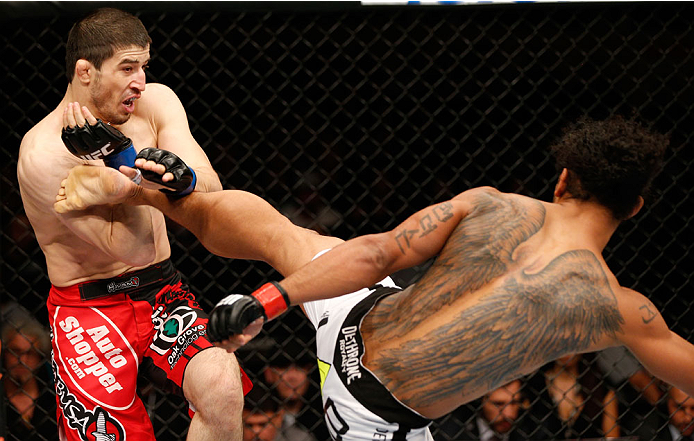 "It was awesome. He needed to have that type of fight, that was a big fight for him. Ben Henderson looked awesome," White said. "Khabilov is a bad dude and a tough guy, he's very well-rounded and his wrestling and throws are nasty - I mean nobody throws people around like that kid does. Ben went in there, and even when Rustam went to throw him he had that nice hook on the leg - Ben looked awesome and he went in and finished.

"Henderson is nasty once he gets that guillotine on you, Khabilov rolled and got out of that thing and got the top position. The first round was a very competitive first round, then Henderson came out in the second and said, 'I'm the No. 1 guy in the world.' He should be ranked No. 1 - he beat Gilbert Melendez."


Missed last week's "Download"?? Get it here!