---
Nick Diaz Is Back In The UFC; Eyes 2015 Return
July 25, 2014
---
UFC superstar Nick Diaz has come out of retirement and has signed a multi-fight contract extension in hopes of returning to the Octagon in early 2015.

Diaz, who has been out of action since March 2013, has hinted at a return in recent months if either a road to a title shot or a super fight opportunity presented itself.

The Gracie jiu-jitsu black belt said the time off has helped him reenergize, and he is now ready to fight.

"I've been doing a whole lot of not getting punched around-type stuff," Diaz said Thursday afternoon at UFC headquarters. "I've been staying in shape pretty good, doing a lot of running. It's been a good experience having this much time off."

The target for Diaz and the UFC is to get him back in the cage early next year, but the confident 30-year-old fighter said he'd be ready to fight tomorrow.

"Next year I guess, whatever though. I can fight tomorrow; tonight," he said. "You have to do what you have to do. ... [I came today] to sort things out with Dana White and Lorenzo [Fertitta].

"It was hard times for a little bit, but people act like I've been doing nothing. I've been getting some things done. Just because I'm not getting punched around every day doesn't mean I'm not focused on what I'm doing. Now, here we are."

> Read: What's Next For Diaz Now That He's Back

Now that Diaz is back, the obvious question is who he might face in his first fight. Diaz said he wants to fight anyone that will get him to a title shot, or somebody that will help put on a memorable show for the fans.

The first name that came up was UFC legend and former middleweight champ Anderson Silva, who has been linked to a Diaz super fight for months now. It just so happens that "The Spider" will be back about the same time Diaz is looking to return.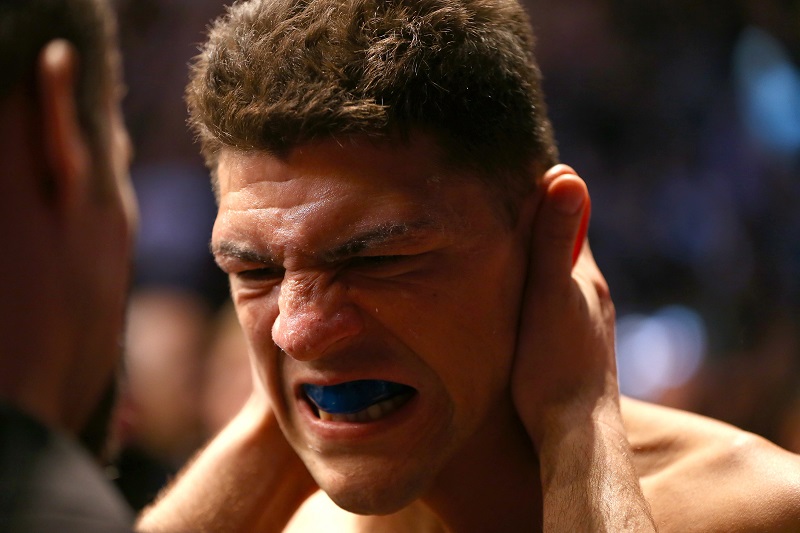 "I'd like to fight for the title," Diaz said. "I think that would be a big deal and worth fighting for. I want fights that will lead to a title fight. Whoever is in line and whoever has the title, that's who I'm going to be fighting.

"I'd be interested in fighting [Anderson Silva] and anything that's going to do well," he continued. "As far as Anderson Silva, I think that would be a great fight for people to see because he has my type of style."

Diaz said Silva's kickboxing style will make for a good fight because both fighters can push the pace and give the fans what they want to see: a stand up war.

But Diaz also said it's Silva's lack of punching prowess that has gotten the former champ in trouble in his last two fights.

> Check Out Diaz' Collection on UFC FIGHT PASS

"I think he has a little bit more of a kickboxing style. I think people have pointed that out to him, especially the way he lost his last couple fights," Diaz said. "He's working on that now, and he has a lot of work to catch up on as far as his punching. Usually with my style, people have a hard time. You have to come forward if you're kicking and stuff. You got guys that are moving in and out, but I work hard. I don't jump in and out. You can wind up all indecisive out there."

Diaz has a 26-9 record overall. He's fought some of the biggest names in the sport, including St-Pierre, BJ Penn and Robbie Lawler, who is set to face Matt Brown in the main event of Fight Night: Lawler vs. Brown this Saturday night in San Jose.


A potential showdown with UFC Welterweight champion Johny Hendricks or Robbie Lawler, who Diaz has already beaten by TKO, down the road is a definite possibility, Diaz said. As far as Hendricks goes, Diaz hopes to shut his mouth after all the talking the champion has been doing.

"You got people running around - you got Johny Hendricks running his mouth," Diaz said. "People yelling at me that I'm not at Top 10 level. 'You learned to fight by watching me. Your guy that trains you was somebody that was in my era.'"

Hendricks or Lawler vs. Diaz would no doubt be something the fans want to see, and in this next run with the UFC, no matter how long it lasts, that is all Diaz cares about doing - entertaining the fans.

Watch Past Fights
Nick Diaz