---
Brothers Get New Opponents at Brazil Event
January 09, 2013
---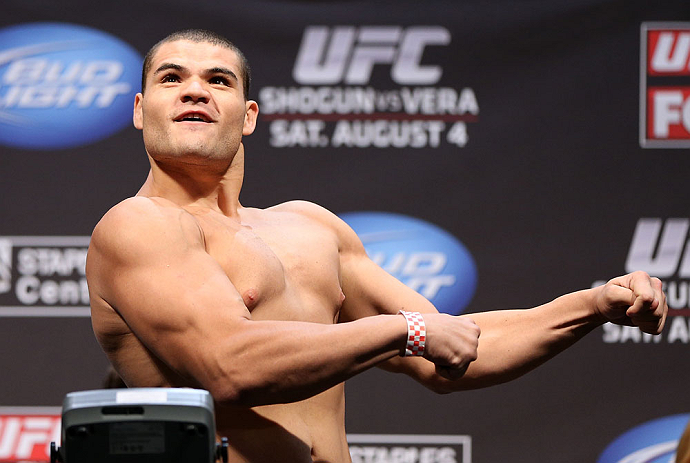 Next Saturday's Belfort vs. Bisping fight card continues to be reshuffled as injuries have forced two more replacements on the Sao Paulo card.

Light heavyweight prospect Wagner Prado will now face UFC newcomer Ildemar Alcantara, as original opponent Roger Hollett has been injured. The 17-5 Alcantara is riding a seven-fight win streak, with six of those victories coming via first-round stoppage.

Alcantara's younger brother, UFC veteran Yuri Alcantara, is also getting a new opponent at the event, as George Roop has also been forced out due to injury. The bantamweight Alcantara will instead meet the 14-1 Pedro Nobre. Nobre was eliminated in the first episode of TUF Brasil last year, but went on to rack up four wins outside the Octagon in 2012.


Barboza Gets New Opponent

updated January 2
Lightweight Justin Salas has been injured and forced out of his January 19 bout in Brazil. Stepping in is 11-0 striking phenom Lucas "Mineiro" Martins, who has verbally agreed to meet fellow Brazilian Edson Barboza. Both men have wowed fans with spectacular highlight-reel KO kicks.


Magalhaes Injury Scraps January 19 Fight

updated December 27
Middleweight Caio Magalhaes -- himself an injury replacement for Thiago "Bodão" Perpétuo -- has been forced to withdraw from the January 19 card due to injury. His scheduled opponent, Michael Kuiper, will instead fight at the January 26 event in Chicago.


Magalhaes in for Bodao in Brazil

updated December 12

TUF Brasil's Thiago "Bodão" Perpétuo has been forced out of his January bout due to injury. Stepping in to his spot on the Belfort vs. Bisping card will be Fortalezan middleweight Caio Magalhaes, who will now take on Michael Kuiper.


UFC on FX 7 Fight Card Revealed

updated November 5
One of the biggest legends of MMA, Vitor Belfort will return to the Octagon on January 19th, facing off against TUF 3 light heavyweight winner Michael Bisping in the main bout of the first Brazilian event of 2013. In a venue yet to be defined, fans will also witness the debuts of three of the first The Ultimate Fighter Brasil stars as official UFC fighters: Daniel Sarafian, now fully recovered from the injury that forced him out of the show's big finale, faces C.B Dollaway; Godofredo Pepey, featherweight finalist, faces fellow Brazilian Miltinho Vieira; and Thiago Bodão goes up against Michael Kuiper.

Brazilian audiences will also get a chance to see up close Brazilian standouts such as Edson Barboza, Thiago Tavares, Diego Nunes, Gabriel "Napão" Gonzaga, Wagner "Caldeirão" Prado, Ronny Markes, Francisco Masaranduba and Iuri Marajó. All bouts have been verbally agreed to and will be aired live in Brazil exclusively by Canal Combate and in the US on FX Networks..

The 19th January event will be the fifth one held in Brazil. The country has hosted three events in Rio de Janeiro and one in Belo Horizonte since August of 2011. Apart from the events, 2013 will also bring the second edition of the reality show The Ultimate Fighter Brasil to Brazilian fans.

Official card (all bouts live and subject to change)

Main Card

Vitor Belfort vs Michael Bisping
C.B. Dollaway vs Daniel Sarafian
Ben Rothwell vs Gabriel "Napão" Gonzaga
Khabib Nurmagomedov vs Thiago Tavares

Preliminary Card

Godofredo Pepey vs Miltinho Vieira
Andrew Craig vs Ronny Markes
Nik Lentz vs Diego Nunes
Justin Salas vs Edson Barboza
Michael Kuiper vs Thiago "Bodão" Perpetuo
George Roop vs Iuri "Marajó" Alcantara
Roger Hollett vs Wagner "Caldeirão" Prado
C.J. Keith vs Francisco "Massaranduba" Trinaldo